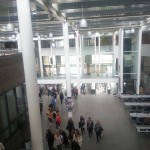 In the context of our Certilingua Project Alina and I from grade 11 travelled to Aarhus, Denmark in April 2013.
Alina's project is about the comparison of the history lessons to the topic "The Third Reich" in Denmark and Germany. I dealt with the question whether the Danish school should be a role-model for Germany or especially for Blomberg.
The Egaa Gymnasium in Aarhus was built in 2006, which is the reason for the modern architecture and teaching material such as smartboards and beamers in every class room. Furthermore the students can go to special rooms out of glass where they can work in groups. A big difference compared to Blomberg is that all students have an own computer in school which they use in almost all the lessons and have free access to the internet. In my opinion, this is very helpful to do research, share your documents and also writing is much faster – maybe this is an inspiration for the HVG in the future.
My impression was that the students were really pleased with their school and their teachers but they are still students who have to be motivated even with a very modern surrounding.
As the Danes are really friendly and open people, we felt very comfortable there and recommend everyone a trip to the Egaa Gymnasium in Aarhus. Farvel, Denmark!
(Melina Andresen)