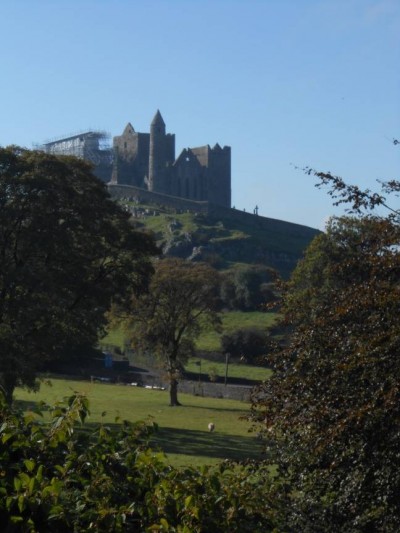 Last fall break eight students from North Rhine Westphalia had the chance to go to Ireland for two weeks. While working in volunteer projects, they were able to learn about the Irish culture and language. I was one of these eight students and would like to give you some information about our stay in Clonmel.
Clonmel is a city with about 16,000 inhabitants and it is located in the south of the county Tipperary. All students lived in pairs in the same hostfamily. But before we met them, we had a preparation in Bonn where we could get to know the full group and get ready for our little adventure. The next morning we set off to Dublin and everybody was excited to meet their family. After a 3-hour-bus-drive from Dublin to Clonmel, we were given a very warm welcome by our hostfamilies.
The next morning we went for a hike with all the other students and explored the wonderful landscape of Ireland. On Monday we had a second introduction, this time, to the boss and the chairman of the Volunteer center in South Tipperary and St. Vincent de Paul. St. Vincent de Paul is the name of the community that runs a charity shop and also the Organization we worked for most of the time. People of Clonmel can donate clothes, books, toys, brick and brack etc. to this organization and St.Vincent will sell it then to get money for homeless people or poor families of the county.
Our task profile included reorganizing the attic of the St. Vincent de Paul building. First of all I have to admit that we have been very shocked about the situation, because you were not able to set a foot in front of the other. The attic was so messy and full of toys, a paradise for little kids – if it had not been so much.
The first day we worked on sorting out all the trash from the good and usable toys. This was probably the worst part, because the other days we had a lot of fun with prizing the toys, sorting them by categories like board games, electronic toys, soft toys, baby toys etc.
The highlight was that we opened a little shop for all the toys, where the people of Clonmel can no buy used toys for little money. We packed refill boxes for the storage as well. So, when the shop is empty, the workers of St. Vincent de Paul just have to refill the shelves with our storage boxes. We also worked in the clothing shop of St. Vincent de Paul twice. I liked this the most, because we were allowed to decorate the shop, talk to and advice the customers. Furthermore, we arranged a coffee morning and sold typical German cookies to collect money to support St. Vincent de Paul. Once we also had the opportunity to paint an outdoor wall in "Bernados" – a social organization for troubled families and kids. It was a lot of fun painting the walls and seeing the result of this efficient project on the same day.
The whole group went on trips together two times. We spent one day in the second largest city of Ireland: Cork. And another day in Waterford. Our hostfamily showed us the City New Bridge, with the famous museum and shop of silverware, as well. After work we had the afternoons off and could go window shopping or just hang out. Friday evenings we went to a youth center where we learned how to play the tin whistle- but my music sounds insufferable so I thought it was nicer to talk to the Irish teenagers.
Another evening we went on a dragon boat trip with surviving chest cancer patients. It was adorable to see the unity and solidarity of this female rowing team. Another interesting part of our trip was to visit the Irish schools. The Irish high schools are separated in boys and girls schools and all students have to wear uniforms. One afternoon we visited the class "Film Studies" and were integrated in their movie project. That was a lot of fun! Another afternoon we went to Drama club. This subject is a very relaxed one, but of course fun. The girls were all very lovely and we invited them to our farewell evening.
All in all I can say that it was such a big chance and opportunity for me and I came home with a lot of experiences which will help me in my future and working life.
In general we were all glad and proud of ourselves because we achieved a lot during those two weeks. The grateful and smiling workers and the sold toys with the release for the poor made us feel very confident.
I can suggest those projects to all open-minded and flexible students of you! It is an experience you will never forget!
(Laura H., Jg. 10)
Weitere Informationen unter http://www.experiment-ev.de